Carpet cleaners in Altrincham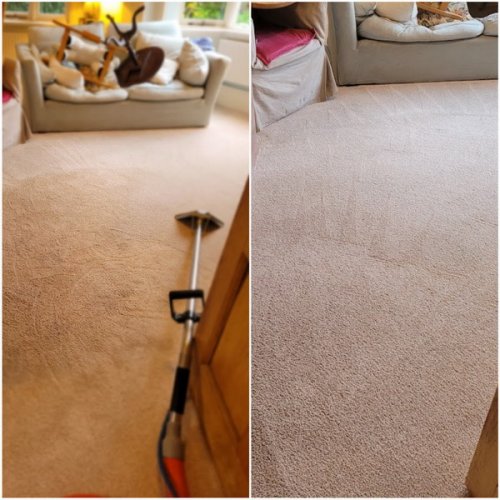 Our Altrincham Carpet Cleaners are here to assist you with all your carpet and furniture issues. Whether this is a full service, stain removal, or just some advice.
We have been operating for over twenty-plus years.
Trained with both the IICRC and Ncca. We are fully insured.
Before we begin with any work, we will take a detailed survey. Understanding what fibre is being dealt with is required.
Using an incorrect method or solution can cause damage. This is where our expertise comes in.
Steam extraction is by far the most popular system we use.
This has massive advantages over other methods.
Heat at over 120f is hot enough to destroy bacteria, dust mites, allergens, and more.
It also helps remove grease and grime, which includes dirt.
Our truck mount is powerful. With vacuum and freshwater lines running up to 150 feet.
The solutions we use are the best in the market. Using quality will guarantee that I can give you the best possible outcome.
Carpet Cleaning Altrincham 
Our photographs show what you become used to and how it should be.
This customer was about to market their property.
First impressions last.
To achieve these results, this is what we did.
1/Pre-survey. Identification and understanding of fibres.
2/ My assistant vacuumed. Common areas of buildup are edges. This is where dust lives.
We use a small nozzle that is attached to our machine that aids with this dust removal.
3/ Identify stains. We use fit-for-purpose products that attain the best results.
4/ Application of our solution is applied. We allow at least ten minutes of dwell time.
They will break down soils, grease and odours.
5/ Steam extraction now took place.
This was a large home that took us several hours to complete.
We use alkalines, acids, gels, stain removers, coffee and tea eliminators, rust removal chemicals, and red wine reducers. Our list is quite vast. Understanding what each and everyone can do is a game of chemistry.
We sometimes have an end of a tenancy on the Yuk scale.
You have seen on television some conditions people live in.
So having powerful agents to break down all these types of contamination does help.
Some companies or individuals are not trained or even insured,insured, so buyers beware.
You may see amazing offers such as £19.00 a room. If it sounds too good an offer it probably is.
We have to rectify these problems caused which is a lot more expensive than your original outlay.
By this we mean
Smells are evident the following day. This will be the formation of mildew. This is caused when over-wetting. The water seeps into the underlay and is now trying to dry but can not.
How to fix this is costly and here is why. Replace with new padding, treat the reverse, and then refit. We can now steam extract. As a ballpark figure, a standard living room would have cost £350.00. Besides this, you would empty the room before works begin.
Or you can have a cost from me, which is normally £55.00 for a lounge up to 15ftx 12ft and bone dry in around three hours.
As mentioned, not all furnishings can be cleaned using water. They can shrink or distort.
We have to be careful with Axminster, Wilton, and Sisal.
For the above, we would use a dry method.
This is where a mist of solution is applied. Followed by our dry compound. This looks like sand. This is agitated into the fibres and left for twenty minutes. This is then vacuumed. Results can vary on the level of contamination we are dealing with.
Low Moisture
This is where a minimal amount of moisture is used. I distributed an application of dry compound over the surface area. A CRB (Counter-rotating brush) grinds the compound into the fibres. This then absorbs the dirt, turning the compound a darker colour. This is then hoovered away.
As you can appreciate, there are limitations to this method.
Stain Removal
We were trained to understand the best method, and which product to help uplift the eyesore marks. Common ones are red wine, rust, coffee and tea, and blood.
Using an array of acids and gels helps us remove most. I say most, as some folk attempt the removal themselves without success. Unfortunately, this enhances the damage and can make it permanent.
 If you have a dog, you'll have had this experience. Removing the odours associated is another thing. Liquid seeps down and underneath into the underlay. Once this gets wet, this is now contaminated. This is where the smells come from.Ammonia is very distrincative and lingers and not pleasant. To access the underlay, your carpet needs to be removed.
Having a stain guard will help you with those unexpected accidents. Liquid spillages sit on top of fibres, giving you time to remove them and not penetrate the padding.
The application requires a cure time of around eight to twelve hours.
We recommend a repeated application every twelve months.
When any company hears that the homeowner has attempted the work themselves without success and now requires us to fix their mistakes sends a shiver down our spine. Here is why.
What you have hired lacks
1/ Psi pressure- may be a maximum of 30. We use on average 300.
2/ Vacuum- A single hoover. We have a vacuum system that operates up to 100 feet away.
3/ Drying Times- How long is a piece of string? We have known items to take days to dry. Mildew starts to form, which then creates that odour. Carpets will be dry in two to four hours. Upholstery is four to six hours. This is all dependent on the internal humidity.
As part of your hiring, purchase their products.
This is how they make their money. Cheap, poor-quality solutions.
We, on the other hand, used high-quality alkalines, acids, gels plus specific problem solvers.
Such as chewing gum, red wine, rust, vomit, and faeces.
Chemistry plays a large part in removing stains.
Hides vary a lot. Colour, type.
Understanding what process is safest to clean and revive your furniture should be carried out by a trained technician. Understanding which solutions and creams will deliver the best outcome.
Removal of grease is very common, as is stain removal. We test before we proceed. This allows us to ensure no colour run or transfer will happen.
We live in a three storey property. Are you still able to access our top floor?
We carry over 100ft of hoses. Reaching the top floor is normally a problem.
My dog has had an accident. Are you able to eliminate this odour and stain?
 Chemistry is used removing odours.
Steam extraction will eliminate odours, with the assistanc of the chemicals  to most rid stains. 
How much does it cost for your services?
Whilst we have standard prices, such as a flight of stairs being £30.00. a standard lounge being £55.00 this can change should extra work be required. Such as stain removal, urine removal, plus other variants. This is why we like to visit to view your requirements. Size does matter. Customers often get room sizes wrong which affects pricing.
Do you have a minimum call out charge?
Yes our minimum call out charge is £35.00
How quickly are you able to visit me to carry out the work?
Pending what needs doing we like to be able to action the works for you as quickly as possible. It all depends on our workload at the time. We do work into the evening should this be an option for you? In the event of an emergency such as vomit or diarrhea, we will get to you that day. 
 Carpet and Upholstery cleaning Altrincham. Call us now on 07787 347010