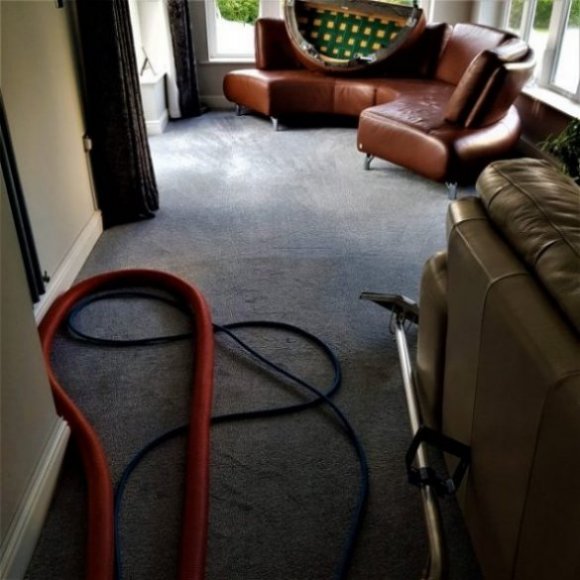 Carpet Cleaning Warrington is what we love to do every day. We deliver a wonderful service to our customers.
Is your furniture a little shabby, has stains, changed colour, has unpleasant odours? We can revive these for you. We guarantee they are sanitised, fresh, and healthy.
Are you aware that dirt will trap bacteria, dust mites, allergens, plus other microscopic contaminants like a magnet? It has had detrimental health effects on some people.
We are at Wilderspool Causeway, in Stockton Heath. My business motto is to deliver best-in-class service for all clients. We are on hand to assist you with all of your fabric sofa or leather upholstery.
My team who are familiar with the removal of eyesore marks, odours, microbes plus allergens that you may have. Greg is an operations leader. Probably the oldest Warrington carpet cleaners in Cheshire. He can assist you with any situation. We work hard to achieve significant results. Why do I say that? We have over 30 combined years within this industry.
Many lounges go years without a service. Here you can see colour differences that show what has been removed. Our customer tried this herself by renting a machine. There was no improvement at all with dirt levels or odour, which caused her some grief.
What do you think of these pictures?
We love to showcase the works we do. It shows the next customer what we can achieve.
For this customer, this is what we did.
1/ Pre-vacuum
2/ Problems areas addressed where tea and coffee had been spilt plus gum.
3/ Apply an alkaline solution liberally. Agitate thoroughly. This ensures 100% adhesion to all fibres.
4/ Sections were executed slowly. Some were addressed on more than one occasion.
5/ Cost for this customer was £55.00
Be it your home, business, or a rental unit, my company will action all works thoroughly.
I understand that your home and commercial premises are your havens.
Warrington Carpet Cleaning
Tidiness, plus the appearance of your home, affects your mood, and how others see you or your business. Keeping your home or business streamlined and healthy is important. Mess or spillages can occur when you least expect them. This causes fabrics soiled or damaged, including greasy marks. We are your top-ranked tradesperson assisting you.
When we do work, there is a right way and a wrong way. Preparation is key for all tradespeople.
Over twenty years of experience and expertise with years of hands-on is used to complement each other. Am sure you have witnessed steam or hwe, but have you heard of a system called dry, low moisture, or even foam?
Each system we use enables us to work safely. Eliminate any risk of damage, pigmentation change, or bleeding.
Our most popular method is to use steam or hwe. Some jobs are more challenging than others, such as this before and after shot.
We were dealing with a variety of issues. From dog odours, stains, urine, and deeply ingrained dirt.
H2O is heated to 130F and is forced into the pile. This force spreads fibres apart, which allows an even deep-down penetration. To assist this, certain chemicals may be used that help break down dirt, smells, and marks. Some customers ask for green or pet-friendly products only to be used. Drying times are normally two to four hours dependent on the internal humidity. We can speed this up with air movers. Please note that fibres will contain around 2.5% moisture content when we leave.
We also use an arsenal of chemicals. These range from acids with a ph. of 2.5 to alkaline from 8.0 to 13.5 on ph. scale. Gels are also used.
When sanitised, you want them to be neutral, which is equal to water. This ensures that no resoling or wicking will occur.
Dry Method.
Before any technical side is started, we vacuum. This releases as much grit, sand, and dander as possible. This process involves low levels of moisture, along with tiny sponges scattered which, when each other comes in contact with the other, react. We then scrubbed into the fabrics using a special crb machine. A CRB is an electrical machine with three sets of brushes. These rotate at high speed, agitating solutions. CRB stands for counter-rotating brushes. The compound will, after 20 minutes, changes colour from a light yellow to a dirtier colour of yellow. The compound is absorbing dirt, grease, plus odours. This will then be vacuumed up. All vacuum's must-have brushes on it to deliver significant results. This system would be used on sensitive products such as Wilton's a fibre that could shrink using wet pressure.
Low moisture.
What is it? How does it work?
It is as it says, Low moisture. We use this when dealing with sizeable areas of low-profile fibres in hotels, care homes, or any other commercial building.
This would involve hoovering. A selected chemical is then misted onto the fabric. A bonnet machine is then used. The bonnet machine has a pad attached. When working, minuscule amounts of water are released, which wet the pad. The pad is continually rotating, removing surface dirt.
The advantages of this system are that an area would be addressed quickly and dried quickly. The disadvantages are that only the surface will be addressed.
I must emphasise that the use of these systems mentioned has its place.
Certain fabrics react negatively if heat or water is engaged. By this, I mean they can shrink and alter their shape.
To ensure that any potential damage is caused, a survey will be carried out.
Surveys help us identify filaments to be washed. Our training plus experience dictates the safest method to be used.
The needs of the customer, they expect what we aim to please. We strive for perfection in our work, so we carry a lot of solutions that are certain to leave fabrics looking as good as new. Our staff are well trained in dealing with those tough marks. They deal with many kinds of fabric, from delicate silks, lace, and thick wool plus all kinds of cotton. They are trained to work efficiently.
Our service is always ready using the latest technology and chemistry. With these assets, we can deliver a thorough service for many furnishings. This is paramount when you have a mess to tidy with little time to do it. Imagine a get-together and then you realise that your home is a mess. You need a reliable company who can do the job quickly, to very high standards.
From a spot to large segments of a room
Our experience allows us to determine the best course of action. In some instances, this is straightforward cold-water flushing, a chemical application to break down any salts, followed by extraction. More extreme cases are the removal of a carpet to access the underlay and replace it.
Liquid sinks so it seeps into the padding. This is where the odour remains and manifests.
We have more information on urine.
Homemade Suggestion
If there is one thing which customers do is purchase stain removal products from shops. Be it foam or spray. These do not work.
I had been rejuvenating a rug which a customer had attempted using shaving foams. Now, in all the years I have been in this industry, I have never encountered this experience.
I am passionate about the negative side of these products. They can cause more damage.
The purchaser believes that what they have will remove their stains. Wrong.
The guidance on the small print states:
1/ Test in an inconspicuous area. They contain bleaches and may damage your issue. Once opened, you won't be able to return the product for a refund.
How can foam tackle this? Would you use something similar in your clothes?
So please refrain from these. Use our homemade suggestion.
What is our stain homemade remover?
Very simple: Spray bottle. 75% water, 25% white wine vinegar.
How to use it?
We suggest this.
First, blot as much up as possible with a dry towel. Spray your solution directly onto the stain. Apply liberally, but do not soak. Agitate and let this dwell for a minute.
Use your towel and use downward pressure. Repeat until you are happy.
All our quotations are free.
What are the benefits of working with steam?
This is the most popular way we method. Vapour temperature is over 120c has the following benefits.
1/ Rids bacteria and viruses
2/ Destroys odour
3/ Steam evaporates allowing items to be back in use quickly.
How do you charge for work?
Not every job is the same. You may have a lot of stains which can be time consuming. Pet odour. And of course what we are cleaning, and size.
As a typical example a flight of stairs with 13 steps would be £30.00
My furnishing's have never been cleaned before. What can I expect using your service?
 We recommend an annual clean. We are asked this question so many times when the carpet is five years old. All we can promise is we will do our very best as we do in all works we action. We are good at our job. or so my customers tell me.
How long will it be before i can use my rooms again?
Your carpet will be bone dry in 2/4 hours. The humidity of a room will also dictate the drying times.
Which areas of Warrington do you clean carpets and upholstery in?
Our service is delivered to all area's of Warrington, Cheshire. Here is a list where we have worked in the past.
Appleton
Appleton Thorn
Bewsey
Birchwood
Burtonwood
Callands
Chapelford
Cinnamon Brow
Croft
Culcheth
Dallam
Daresbury
Edgewater Park
Fearnhead
Golborne
Glazebury
Grappenhall
Grappenhall Heys
Gorse Covert
Great Sankey
Hatton
Hollins Green
Howley
Latchford
Lingley Green
Locking Stumps
Old Hall
Paddington
Padgate
Penketh
Regency Park
Risley
Sandford Park
Sankey Bridges
Stockton Heath
Stretton
Thelwall
Walton
Westbrook
Winwick
Woolston