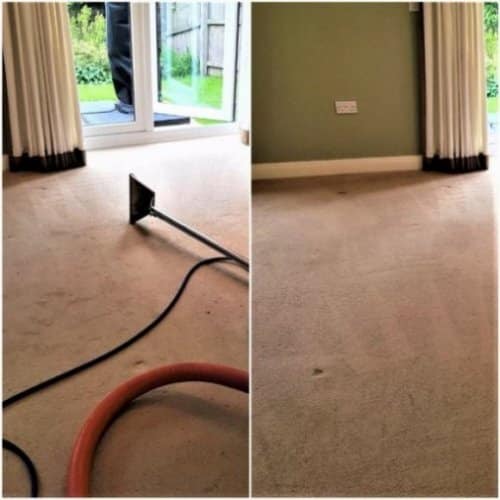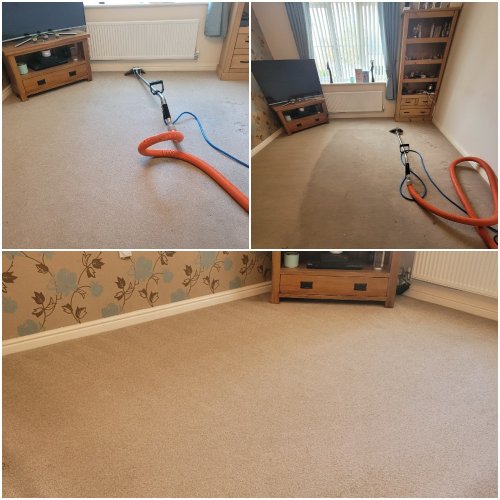 Are you looking for local carpet cleaners in Newton Le Willows? With over 20 years of experience in this sector. We are one of the most trusted companies in the area.
Our services are for both residential and commercial customers.
We pride ourselves on using a variety of chemicals, including non-toxic methods to protect our customers, their families, and pets who don't like chemicals.
My company can also assist you with your fabric sofa, leather upholstery, and loose rugs.
Pet problems, urine removal or odour removal is a more complicated procedure.
When our technician arrives at your premises for your appointment, they will survey the condition of your furniture. We provide you with the best method to be used, so your fabrics can be as good as new. All you will have to do is sit back and relax, knowing that your items will be fresh and sanitised when we are finished.
My team comprises trained experienced personnel, who have dealt with the toughest cases of stain removal, pet problems, and odour removal issues for many years. They know and are trained to tackle all kinds of problems. Dirty fibres can result from pet hair, children spilling food or drinks plus also due to lack of regular maintenance.
We will provide you with an array of options which ensure that your home or commercial property continues to look as good as new. Our goal is to ensure customer satisfaction and provide effective solutions for the toughest marks. It is our constant practice to provide you with services that correspond to the highest standards within the industry.
Carpet Cleaning Newton Le Willows
In this picture, the customer had an issue with odour. She had two dogs. Our suggestion is a visit at least twice a year when you have animals.
Pets carry an assortment of issues, such as dribbling, vomiting, and weeing. All that body fluid plus their sweat has to go somewhere. Into the fibres?
This is what we did for this job.
After conducting our inspection, we preceded with a powerful enzyme solution. This was liberally applied.
We agitated deep into the fibres using a specialist machine.
Once this has been left for 5 minutes, we repeated this.
Next, our truck mount machine was set up. An acid was applied to the freshwater tank. The purpose is to balance the ph. of the fibres. Any additional marks were also treated.
We set the steam temperature to 120f with a psi of 300 used.
Operating from the furthest point backwards. Always checking our work, removing stains and other blemishes.
Once complete, we place two air movers in the room. These speed up the drying times considerably.
We also applied a beautiful fragrance.
How much does carpet cleaning cost?
Our standard price guide can share with you.
As you can appreciate, not every job is the same.
For this job, we charged the customer £55.00.
A large lounge pending size can go to £85.00
£35.00 per flight of stairs.
It may be beneficial to have us apply our protection solution once any work has been completed. An invisible shield is formed on the fabric or fibre. So if a spillage happens, it allows you the time to mop this up. With no form of protection, liquid or other drinks would sink or leave a mark. Now, this is not a permanent solution. The lifespan varies. Our recommendation is an annual treatment.
 One of the popular systems we use is hot water.
This system can be used with many types of fabrics. However, as mentioned, not every fabric can endure this system. The reason is that they can shrink or warp. This is where our training and hands-on experience all count.
Some people think it is straightforward. Believe me, it is not. We need to understand the marks being tackled. What are the safest methods to remove them, what odours exist, urine removal, and the level of dirt? Check for colour fastness.
What chemical will be applied? All this is a natural process for us. However, for insurance, every item we work with has a survey report attached to our invoice.
We understand some customers may take a chance and hire a machine. We often get calls from customers after they have attempted their DIY, are disappointed with the results, are now experiencing mildew issues, or whatever was cleaned has marks on them, or the item is still wet, days after and is smelling.
Let me explain how we would undertake the work for you.
To ensure we can deliver the best outcome, we follow a procedure list to which we adhere.
1/ Thoroughly hoover. As the saying goes, preparation is King. Even if you have, we will want to repeat it. When we hoover, a typical lounge would take around ten minutes. We reach into the nooks, crevices, and anywhere else.
2/ Apply the chemical compound. Again, this will vary on the makeup of the fabric.
3/ Once this has been applied, we will allow this to dwell. The reaction we require is for the grease and grime to break down.
4/ We now proceed with steam extraction.
5/ Areas are broken down into segments. Once a section has been worked on, we will check it to ensure nothing is visible. We will also check for wicking.
As we are using steam at over 120c, this will also destroy odours, dust mites, bacteria, and allergens, leaving your items sanitised and fresh.
6/ Should you wish, we will comb the fibres back into place, or leave the shark teeth outline. A lot of customers like this, but it will go on within 24 hours.
As mentioned earlier, steam extraction is not for every fibre.
I used this method on a Wilton or viscose it would shrink, therefore we use alternative methods such as low moisture or dry methods.
You may be considering doing the work yourself. However, we would heed caution.
Over the years, we have attended many properties to help resolve issues that the homeowner can not rectify. Such as dealing with
1/ Wicking
2/ Odour
3/ Everything just looks the same.
Costs for hiring these contraptions vary. As a rule of thumb, we guestimate including the shampoo they sell you a price of about £45.00 plus. You also have to collect and return the machinery and do the work yourself.
Tips for the home
If you experience spillage, why not use this tip?
Remove as much of it as you can using a spoon. Always drag the liquid or solid contaminants inwards.
Don't use any sprays you can purchase from shops. They do not work. Instead, use a spray bottle. Fill the bottle three-quarter full of water, and the balance with white wine vinegar. Administer the problem. Allow the chemical to penetrate the fibres for a minute or two.
Using a white towel, fold it into a square, and place it over the area to be treated. Now stand on the towel for a few seconds. Remove the towel and inspect. You may need to repeat this process until you're happy with the results. A slight odour may be present for an hour, but you have saved yourself a call-out charge.
One thing you must avoid at all costs is when removing a stain you never rub. This can lead to fibre damage.
Do not use hair dryers after your removal attempt. Just let it dry naturally. The reason is if you think it has gone great, however, if there are remnants, they could reappear, but will be sealed in because of the drying process.
It is best to steam extract, especially if you have pets, or you are in a rented property where the bond is returned depending on the state of the property at the end of your tenancy. Doing this yourself may deliver negative results. Going through our tips before purchasing a machine can help you understand the advantages and disadvantages of one.
You can also get rid of obstinate stains by using lemon juice or non-chlorine bleach. Brushing the area with hydrogen peroxide solution can also help to remove these, causing no damage.
Vacuuming regularly helps to reduce dirt and gritty deposits.
Using a mat at the entrance can eliminate the excess dirt at the doorstep itself. Why not have runners in front of your sofa also?
Our quotations are free. You can contact us at 01925 546013  send an email or text us.
We try to respond within the same day of your enquiry during normal business hours.
What is your lead time
Like any business lead times vary on current workloads.
We always try our best to accommodate you as quickly as possible.
I have attempted to sanitise my furnishing. They NOW smell. What can you do to help me?
Experience tells us that you have over wet the carpet or upholstery.  A survey will determine what course of action should be taken to eliminate these odours. It may be a simple fix using enzyme solutions, to uplifting your carpet and replacing the underlay. This is a service we provide. This problem generally occurs when using rental machines.
Do you have any tips you can give for removing dust from stair's. My hoover is so heavy.
As a professional and even when at my home, I never hoover stair carpets. I always use a nylon hand brush. Start on the top step and work your way down.
I am moving out of my rental property. Do you offer end of tenancy service?
An invoice is raised for every job we carry out. Detailing the works actioned. We then email these to you or your landlord.
Do you charge for a quote
All quotations are free and valid for 30 days
 Carpet and Upholstery cleaning services in Newton Le Willows. Call us now on 07787 347010